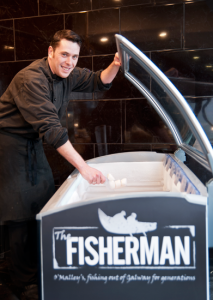 We love to engage with and talk to our customers in our Fresh Fish Shop. Our choice, value and freshness as well our presentation is sure to impress.
With store in Dublin City (16 Moore Street, Dublin) the ready to go counter offers a vast array of cooked and preprepared seafood for all taste buds.
Our store in Dublin also stocks a great selection of wines. Award winning wines sourced from the best suppliers worldwide.
If there's anything you would like but can't see, don't hesitate to ask.
Here's just a small selection of what's available on a daily basis:
Cooked lobsters
Crayfish tails
Olives wrapped with anchovies on a skewer
Smoked salmon
Salmon fillets in spicy herb marinades
Monkfish
Cod
Barbecue platter of assorted fish and skewers
Live Fish (Crab, Lobster, Mussels, Oysters, Winkles, Clams and Palourdes)
Contact Details
Restaurant
Salthill,
Galway
Phone: 091 527100
Email: info@fisherman.ie

Fish Shops
Unit 50/51,
Galway Shopping Centre
Headford Road,
Galway
Phone: 091 760127
Fax: 091 760126
Email: info@fisherman.ie

16 Moore St, Dublin
Phone: 091 760127
Fax: 091 760126
Email: info@fisherman.ie